Flowers and Gifts Delivery in Kherson
For more than 15 years, Ukraineflora and its courier delivery of flowers and gifts to Kherson has been receiving orders from all over the world. Our goal is to unite people who are far from each other to convey warm greetings, heartiest congratulations, affectionate recognitions and signs of respect so that the memories of these caring gestures warm hearts even across distances. We accept orders around the clock, provide very urgent delivery the same day, offer secure and verified payment methods: using a bank card, Google Pay, Apple Pay, PayPal. Our catalog contains only the highest quality products, among which you will definitely choose a worthy bouquet or gift at an affordable price and in the most suitable design.
Birth and development – Kherson as part of Ukraine
Kherson is a city with a rich history spanning more than two centuries. It was founded in 1778 on the Black Sea coast. From the very beginning, the city was an important trading center, specializing in the export of agricultural products and goods. Over time, Kherson has become a place of cultural and educational initiatives. Theaters, schools and museums were opened here, which contributed to the development of education and culture in the region.
During the Soviet era, the city continued to develop as an industrial and cultural center.
Today, Kherson is a beautiful and modern place, combining a rich heritage and modern achievements. It remains an important seaport and commercial center, and also attracts many tourists due to its cultural and historical value. Kherson continues to delight residents and guests with the beauty of its streets, monuments and vibrant history, which makes it an integral part of the cultural heritage of Ukraine.
Fast delivery of flowers and gifts in Kherson
We promptly accept orders, collect each one with soul and attention no earlier than two hours before shipping and deliver it to any area of the city:
Central is the historical district of Kherson and a real cultural treasure. There are many ancient buildings, museums and art galleries here.
Primorsky - famous for resorts and beaches on the Black Sea coast. This is an ideal place for water and sun lovers.
Tavrichesky - famous for its nature and parks. There are green areas where you can walk and enjoy the beauty of Ukrainian landscapes.
Sadovyi - characterized by silence and a calm atmosphere. There are many residential areas and park areas in this area.
Industrial – this area is the industrial center of the city. Here are factories and enterprises specializing in various production sectors.
Prichalny - notable for the fact that there are numerous berths and ports on its territory.
Zavodskoy district is famous for its industrial infrastructure.
North and South - characterized by a variety of residential and commercial areas.
The green areais notable for its environmentally friendly environment, parks and public gardens.
New buildings – the area is actively developing and provides many residential complexes and infrastructure.
Economic is the financial and economic center of the city, where offices and banks are located.
The Promenade is a popular promenade in Kherson where you can enjoy walks along the Black Sea and relax on the beach.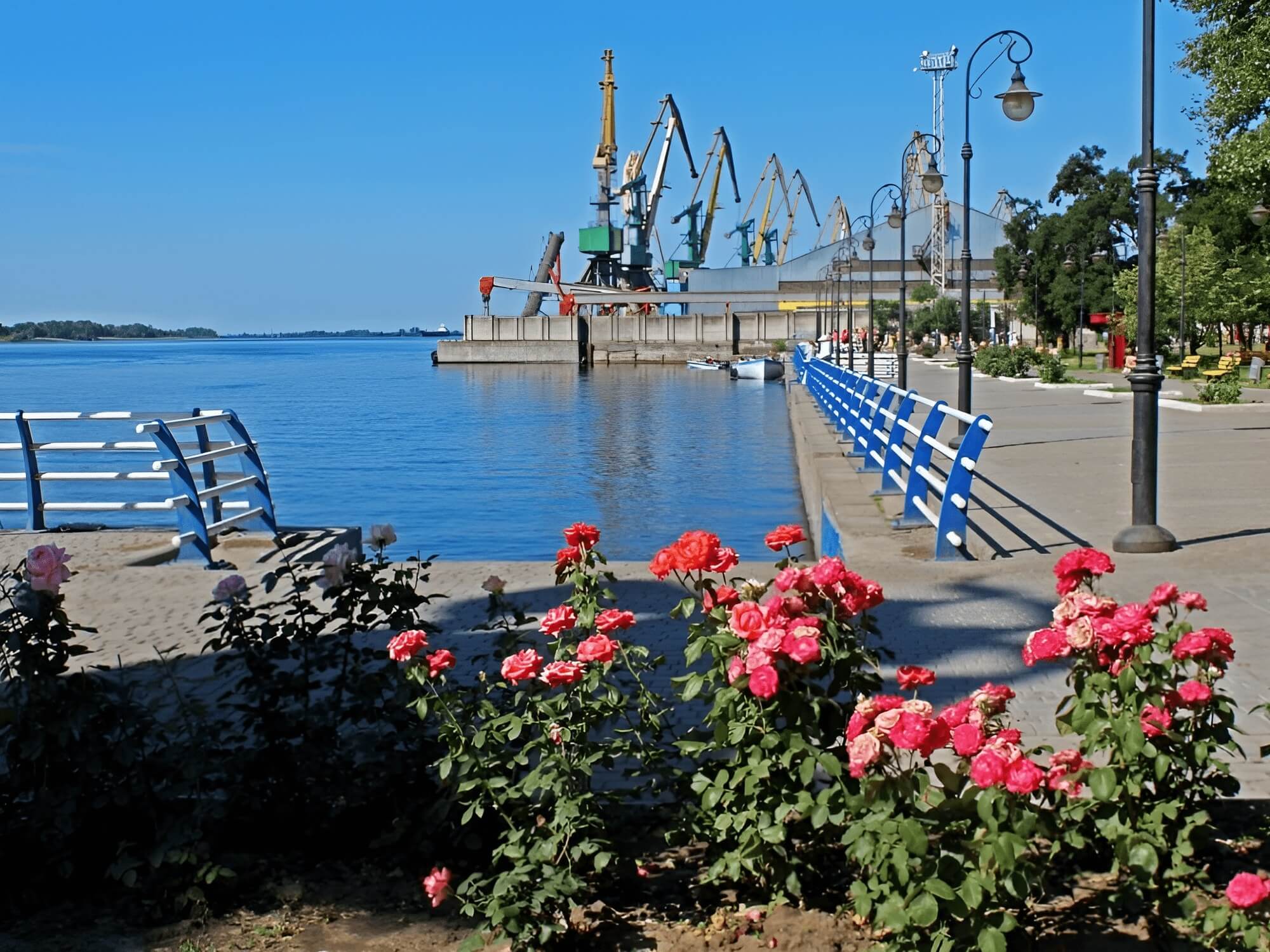 7 reasons to order flowers and gifts in Kherson from Ukraineflora
If you are in any corner of the world and are thinking about how to please your loved ones or friends with an incredible gift with delivery to Kherson and the Kherson region, then you have an excellent opportunity to use the services of the Ukraineflora company. Regardless of what reason prompted you to contact our floristry studio: a birthday, a wedding, an anniversary, or even just a desire to please a loved one - with us, you will definitely find something suitable.
Premium assortment. Over many years of cooperation with various Ukrainian companies, the delivery of flowers and gifts by our service has acquired impeccable features. And all because we cooperate only with trusted suppliers, whose quality of goods we are 100% sure of.
Excellent service. We work 24 hours a day, seven days a week, including weekends, lunches and holidays, which means you can order a bouquet of roses, tulips or other flowers at any time convenient for your time, even if it is night or weekend. We make sure that the goods arrive on time and bring maximum joy to the recipient! Ukraineflora strives to make your experience of cooperation with us unforgettable, and every moment in the life of your loved ones special. Isn't that wonderful?
Friendly team. Work in the field of floristry and custom gift delivery in Kherson unites not only our clients and their loved ones, but also our own team! Florists, logistics managers and couriers are a close-knit group of like-minded people who love to give positivity and see how feelings live and grow stronger between people, regardless of the distance separating them.
Delivery by courier personally or by Nova Poshta. With us, you can choose a convenient option depending on what effect you want to produce. On the website, it is easy to buy a bouquet of flowers online with delivery, so that the recipient can pick up the gift at the post office. If you choose for the recipient to receive your congratulations at home, at work or anywhere else, arrange courier services. He will be able to meet the recipient on the street, in the office, or in the hospital to convey your congratulations.
Easy site navigation. We have thought through the structure of our online flower and gift store in Kherson so that you can easily find the right product depending on the event, tastes of the recipient, own wishes and capabilities. Our categories will help you easily choose a gift for your birthday, daughter, lover, mother, husband, loved one, friend and girlfriend, girlfriend or boyfriend, relatives, friends or colleagues.
Special offers and discounts. Ukraineflora pleases its customers with pleasant reductions in prices for flowers in Ukraine for the first and subsequent orders, making products even more affordable.
Free greeting card with translation into any language of the world. We also provide the opportunity to receive a photo or video report of the moment of delivery. If the recipient does not mind, our couriers will take a photo and send it to you so that you can see with your own eyes what warm emotions the recipient experienced from the congratulations.
All our professionalism, skills and love for creativity are at your service! Let's create beautiful stories together that fill the lives of the people you love with bright colors and pleasant surprises. Place your order now and feel the magic of giving flowers and gifts with Ukraineflora!