A sweet, family-friendly, warm holiday with sincere congratulations and an excellent reason to order flowers and gifts to Ukraine as a sincere surprise - this is Grandparents' Day. Several dates are dedicated to these events throughout the year. To express gratitude for endless love and care, you should please your loved ones with beautiful bouquets, warm hugs and sincere congratulations. On this day, it is especially important to show attention to those who have always been there and supported you at any time, and Ukraineflora will be happy to help you with this! We are in touch 24/7, quickly and politely accept orders, select individual solutions for each client, promptly deliver your compliments to any corner of Ukraine and happily hand them over to the recipients. We are happy that we can help people become closer, despite the distance separating them.
When is Grandmother's Day celebrated in Ukraine
There are several dates on which the wisest, dearest and most beloved family members are honored. Let's find out how this holiday originated and how it should be celebrated.
October 28 – Grandparent's Day in 2023
The ancient Slavs honored their family and always celebrated holidays associated with family. At the end of October, they lit candles and performed rituals in honor of Autumn Grandfathers' Day. Our ancestors believed that the memory of loved ones holds the family together and connects generations, and through respect a bond is formed that protects each family member.
The specific date of the celebration was secured thanks to the resourcefulness of the Dutch flower company, which held an event on October 28 in support of older people. The event was aimed at strengthening ties between generations. The idea caught on, and the date was firmly established in European countries and America.
Unlike other similar holidays, October 28 is celebrated both as Grandparents' Day, so it would be right to prepare at least a small gift as a sign of respect for those who are always ready to share knowledge, experience and warmth with their children and grandchildren.
Thus, the holiday of grandmothers in Ukraine is celebrated every year to prove to the older generation that they are an important part of the life of every family. However, not all elderly people have grandchildren. For cases when you want to congratulate an elderly person, you can celebrate another holiday described below.
October 1st – International Day of Older Persons
Since 1991, the International Day of Older Persons has been celebrated on this date according to UN resolution. The need to create a special event arose after studies showed that the world's population is rapidly aging. It is necessary not only to honor people of the older generation, but to give them the maximum number of opportunities for a full life and participation in solving public issues. Since then, many universities around the world began to actively accept older people as students, and public organizations began to hold festivals and events aimed at emphasizing the problems of the older generation.
On this day it is important to show that you not only love your grandparents, but also respect their experience, vision of the world, desire to give care to loved ones, protect and support. A great idea would be to give a bouquet of flowers - buy for grandparents or order delivery.
July 26 – Grandmothers' Day according to the Christian calendar
Believers congratulate the older generation on July 26, since on this day the Catholic liturgy honors the memory of Saints Joachim and Anna, the parents of the Virgin Mary, thereby recognizing the important role of grandparents in the life of Jesus Christ.
What to give to grandparents
Family holidays are a wonderful chance to express gratitude and love. Choosing a gift can be a difficult task, but with our ideas you can find the right option that will bring joy and warmth to your loved ones.
A basket of fruits or groceries is one of the most popular gifts for grandparents, which always cause delight. The combination of aromatic fruits, healthy nuts, delicate cheeses, delicious sweets and healthy products will allow you to enjoy a tasty and nutritious treat while remembering your beloved grandchildren.
A bouquet of flowers with delivery is a great option as a gift for your beloved grandmother. Choose the most charming buds from our assortment, and the couriers will deliver them straight to the door and, if the recipient does not object, they will capture the moment of delivery in a photo or video.
Potted flower If your grandparents love nature and gardening, then a gift of an elegant orchid, festive hydrangea or exquisite bamboo would be ideal. This option will add comfort and freshness to the room and will give you the opportunity to look after the plants without leaving home.
The Eternal Rose is a symbol of endless love and respect. This special flower will remain fresh for many years, reminding your loved ones of you.
Custom tea set or cake. Perhaps your grandparents love to welcome guests. In this case, a set of high-quality cookies or a cake delivered will be an ideal gift. Choose a variety of sweets, chocolates or other treats that will allow your relatives to enjoy the cozy ritual of drinking tea with loved ones.
A jar of red caviar is a luxurious gift, either in addition to other options or on its own. This delicacy will definitely please your loved ones and will be a wonderful decoration for the holiday table.
Certificate for purchase at a hardware store. For grandparents who are passionate about modern technology, give a certificate for purchase at an electronics store. This will give them the opportunity to choose what they have long wanted and immerse themselves in the exciting world of new opportunities and entertainment.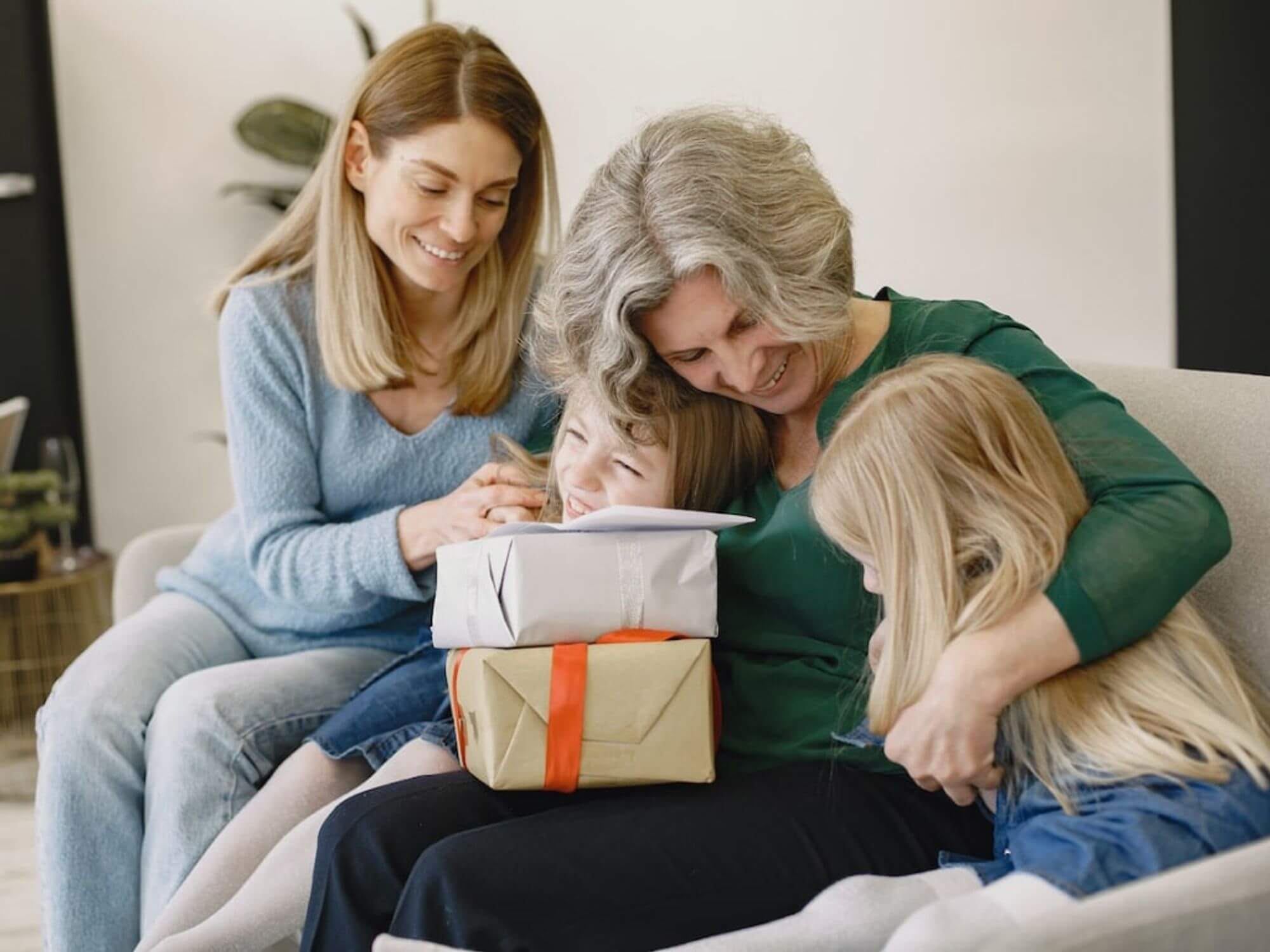 On Grandparents Day 2023, the choice of gift plays a special role. It is important to decide on an option that will speak about your attention, respect, and sincerity of feelings. Be attentive to the preferences of your loved ones, and your sign of attention will become an unforgettable symbol of devotion and care.
Where to buy a gift for grandparents with delivery
The Ukraineflora company presents a wide range of products for various events. For more than 15 years we have been working to keep you closer to each other, send not only gifts with delivery to any city in Ukraine (Kyiv, Lviv, Kharkov, Odessa, Zaporozhye, Rivne, Chernihiv, etc.), but also support friends and relatives on important dates for them. Every day, we prove that distance is not an obstacle to real feelings! Take a look at our catalog of gifts and flowers to choose the best congratulations on your loved ones. We guarantee premium quality, the freshness of each bud and the safety of the products, as well as fair prices without overpayments.
With Ukraineflora, every day can become a holiday that will remain in your heart for many years!